Venue
Course Venue
IFUSCO will primarily be held at the University of Vienna's campus. The registration desk will be at the department of Finno-Ugrian Studies:
Abteilung Finno-Ugristik
Campus AAKH
Spitalgasse 2-4 Hof 7-2
1090 Wien
48°13'02.8"N 16°21'14.2"E
Take public transit to the tram stop "Lange Gasse" (see below), and then follow the red dotted line: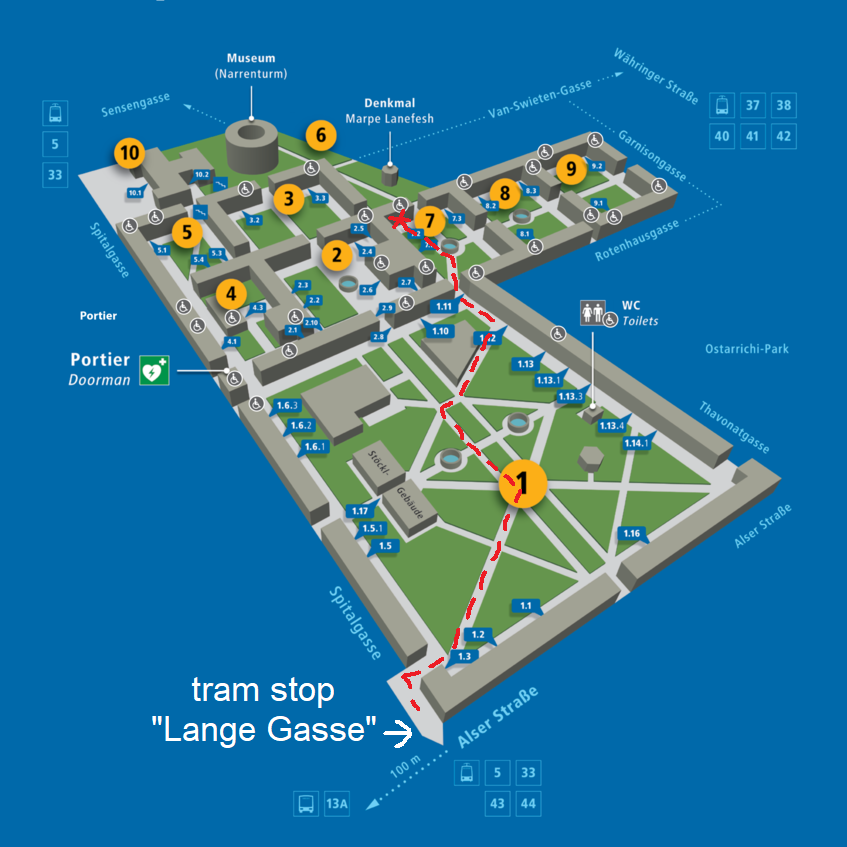 Other sessions will be held at the Department of Near Eastern Studies (Orientalistik) and the Department of Jewish Studies (Judaistik); plenary sessions will be held in Auditorium D. All of these locations are within immediate walking distance from registration desk; we will provide additional orientation aids when you register.

If you registered for a place to sleep during IFUSCO, you should have a booking confirmation with your hostel's address in your inbox. NB! Due to the large number of participants, students are staying at two different hostels.

If you registered for a walking tour of Vienna on Tuesday, you should have instructions leading you to a meeting point in your inbox.

On Tuesday (after the walking tour) and Thursday, we will be meeting at locations far from the University Campus in the evening. We will be heading to these locations together, but in case you are coming from somewhere else, here are the addresses / coordinates:

Tuesday, 18:30:

Brandauers Schlossbräu (self-paid dinner)
Am Platz 5
1130 Wien
48°11'09"N 16°18'04"E

Thursday, 19:30:

Pfarre St. Florian (Ugri-Mugri Evening)
Wiedner Hauptstraße 97
1050 Wien
48°11'08"N 16°21'47"E

On Wednesday and Friday, we will be meeting for (self-paid) dinner or drinks at 19:00 at the restaurant Gangl in the campus.

This map shows all critical locations in Vienna you might be looking for at some point, except for the starting point of the walking tours. It also shows the closest supermarket (Billa) and ATM from the conference locations.
Getting to Vienna
Vienna is easily accessible by train, bus, or airplane. If you are flying to Vienna, note that Bratislava airport is also within an hour's drive of Vienna, and there are many bus connections - so it's worth checking flights to Bratislava as well!
There are frequent train connections from Vienna International Airport to central Vienna - see below. Note, however, that the airport is outside Vienna. The city ("Kernzone") transportation tickets are only valid from or until the train station of Schwechat. If you buy a train ticket from the airport, giving Wien Mitte or Hauptbahnhof as destination, it will be valid in the city ("Kernzone") area for the rest of your trip, i.e. getting to the hotel. More information on the webpages of the airport.
Travelling to Vienna by car, while possible, is not a great idea: Vienna is not a car-friendly city, and there are no parking opportunities anywhere near the Finno-Ugric department.
Getting around in Vienna
Vienna has a superb public transit system, consisting of 5 metro lines, 30 tram lines, and countless buses. The course venue and all the relevant train and bus stations (though not the airport) are in the central fare zone for Vienna - so one ticket should cover all your needs.
You can get a weekly ticket for public transit for € 17.10. More information on the website of Wiener Linien.
The following transit map (based on this) shows some of the most relevant locations in Vienna for IFUSCO in red boxes: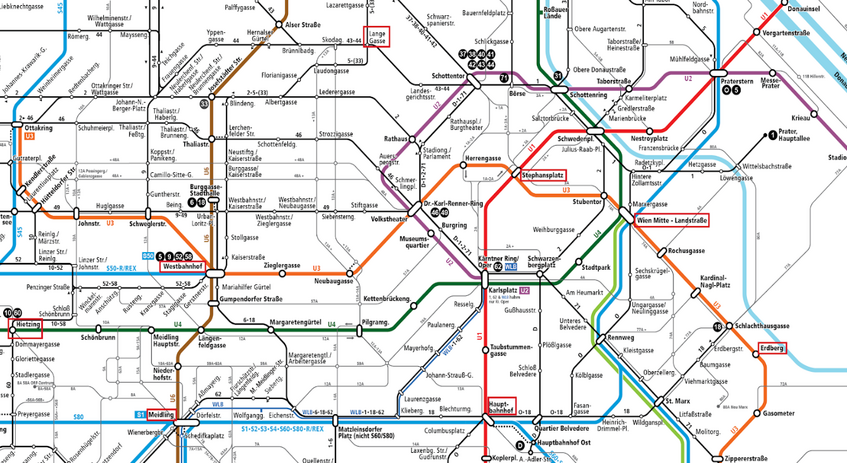 The closest public transit stop to the University Campus is Lange Gasse (which is the bottom left corner of the campus map above).
Depending how you are travelling, you will either arrive at Meidling (if coming by train from Germany), Hauptbahnhof (if train from Hungary, or the airport by long-distance trains - RailJets - though many of these trains go on to Meidling, which is closer to the hotel), Erdberg (if coming by bus), Wien Mitte - Landstraße (if coming by from the airport with the local train S7 - you can also take the "high speed" train CAT in theory, but it's quite expensive, and not worth it), or Westbahnhof (if you're coming with a private train from Salzburg).
Viennese public transit is now at long last also on Google Maps, so you can also figure out how to get where you want to go by tapping your destination on your smartphone.
Food, groceries, ATM
The following map will show you where you can get food, groceries, and money around the department.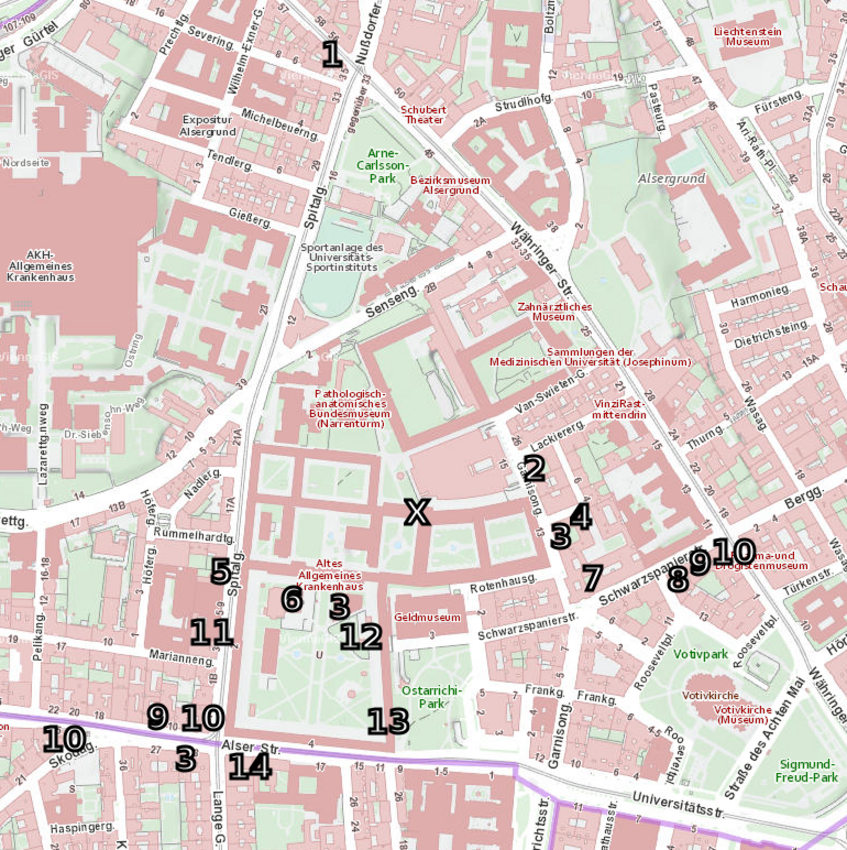 | | | | | |
| --- | --- | --- | --- | --- |
| number | name | foods | price | veg? |
| X | Institute | | | |
| 1 | Swing Kitchen | Vegan burgers | €€ | Veg only |
| 2 | Cafe Gagarin | Varying daily | € | Veg only |
| 3 | Billa | Grocery store | € | |
| 4 | Königshofer | Austrian | €€€ | few |
| 5 | Coffee Pirates | Cakes and sandwiches | €€ | Vegan options |
| 6 | Stiegl-Ambulanz | Austrian | €€ | few |
| 7 | Weltcafe | international | €€ | Vegan options |
| 8 | Regenbogenstüberl | Whole foods | €€€ | Vegan options |
| 9 | Rice & Noodles | Curries and pasta | € | Vegan options |
| 10 | Döner and falafel stands | Döner and falafel, fast food | € | Vegan options |
| 11 | Home café | Icelandic | €€ | Vegan options |
| 12 | Universitätsbräuhaus | Austrian | €€€ | Vegan options |
| 13 | Ganglwirt | Austrian | €€€ | Vegetarian options |
| 14 | Suppenbar | Soups and Stews | €€ | Vegan options |